DESIGNER☆PROP
Personalize Propellers from Mild-to-Wild.
DESIGNER☆PROP has developed the only custom painting process that is FAA approved. The propeller painting process is durable and will last for years. This process can be performed on all propeller options including overhauls, reseals and new propellers, both certified and experimental.
Pilots can provide the DESIGNER☆PROP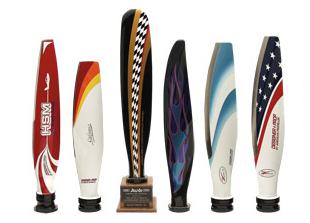 Team with an original paint scheme or personalized logo, or have a custom image developed. DESIGNER☆PROP's Certified Master Painter will complete your ideal propeller design to complement any aircraft.
DESIGNER☆PROP also offers spectacular "GIFT BLADES." These striking "GIFT BLADES" are all custom-made and are perfect for trophies, awards, promotional displays, retirements, birthdays, anniversaries etc.
AMERITECH INDUSTRIES has established a support program with authorized Propeller Facilities and select Fixed Based Operators throughout the United States and Canada. For your nearest support facility locations, call Toll Free 800-292-7767
Mary Dilda, who flew the "Two of Hearts" known as Blue, a T-6 Texan had this to say about AMERICAN PROPELLER.

"My DESIGNER☆PROP has been voted many times as the most beautiful prop on the ramp by air show performers and fans alike. The most impressive aspect is that after 5 years of flying 200 hours a year through all kinds of weather, the paint still looks like new! Performance and class all wrapped up in one package!"